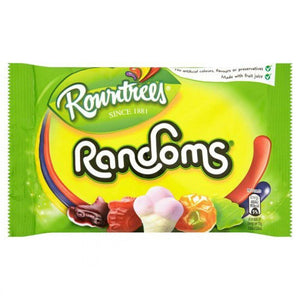 Rowntrees Randoms are the perfect confectionary for anyone looking to break away from the more traditional Fruit Pastilles, Wine Gums and Fruit Gums. As the name suggests, you never know what you're going to get with these unique treats.
The sweets come in six different flavours (lemon, cherry, orange, strawberry, lime and blackcurrant) and four different textures, ensuring that no two packs of Randoms are the same.
Rowntrees Randoms are made with natural fruit juices, and contain no artificial colours or flavours.
Most popular with customers in Germany, United States of America (USA), Norway, Canada, Austria, UK - England, Spain, Portugal and Italy,
Did you know that Fruit Pastilles are the oldest sweet in the Rowntree's® family? In 1862, Henry Rowntree bought a cocoa works in York and transformed it into a confectionary company. Along with his brother, Joseph, and French confectioner August Claude Gaget, they developed the delicious taste of Rowntree's® in 1881. For more than 130 years these delicious chewy sweets have been making days more colourful with their irresistibly fruity taste and mouth-watering texture.
Made in the UK
50g