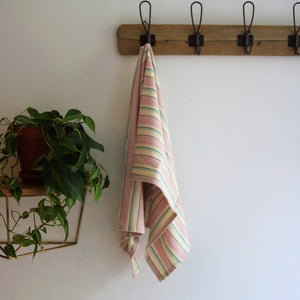 Lily Stripes Turkish kitchen or hand towel has soft pink and light blue stripes, with a small black stripe detail. Turkish towels bring the tradition of a Turkish bathhouse—slow and relaxed—into your home. As is tradition, slow down, don't rush, and enjoy! 
The Lily Turkish towel is hand-loomed by local artisans in Turkey using the best Turkish cotton, following the authentic traditional technique. It is flat-woven and 100% cotton. Turkish towels are surprisingly absorbent yet lightweight, quick-drying even in the most humid environments, and always smell fresh.
Kitchen or hand towels measure 37" x18" and do not have a fringe.