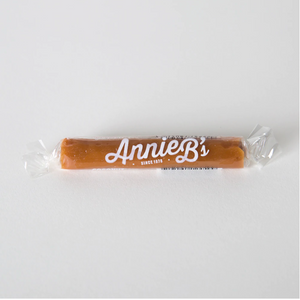 Annie B's original and best-selling caramels are slow-cooked in copper pots, just as they have been since 1978. Handcrafted using natural ingredients including butter, brown sugar and condensed milk. Choose from 4 flavors - Original, Maple, Amaretto, or Sea Salt

These caramels make a great gift or everyday treat. Mellow and buttery with a perfect chewy texture, our caramels were named one of Oprah's Favorite Things.

Another fan describes them as "A party for your tastebuds!" Tuck them inside of cookies, bars or brownies, melt and drizzle atop ice cream, apples and pears.  

Annie B's original caramels are gluten-free and are handcrafted in small batches in our facility.


Each caramel measures approximately 3" long and weighs .5 oz (14g)