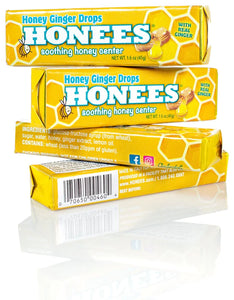 Honees Cough Drops. A hard candy shell with pure honey inside every drop! 
You want quick relief for a dry mouth or throat, and great flavor.
Honees Honey Ginger Cough Drops boast a ginger and honey hard candy shell with a pure honey liquid center. Soothing all-natural drops coat the throat, cool nasal passages, and suppress coughs.
Made with real ginger and real honey.
1.5 OZ
Made in Italy