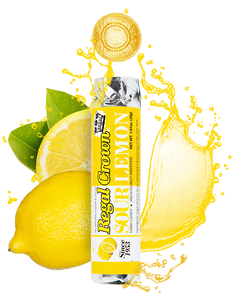 When life gives you Sour Lemons – get ready to pucker up! With a nice hit of sour, this flavor is sure to make your mouth water.
Regal Crown Sours have the most satisfying Tart & Tangy taste. These hard candies are still imported from England with all natural flavor and color. All Regal Crown Sours are wrapped the traditional way – with the no mess individual wrapped nine pieces. The nine wax paper sweets are lined up with a foil overlay and covered with a paper sleeve using the original logo and design.
Regal Crown Sours were the 6th best selling candies in all confectionery categories. 
1.1 oz.