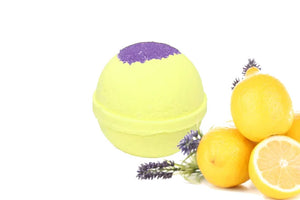 Relax in calming fields of Lavender this season. Each of these bath bombs has a lavender undertone with a hint of healing aromatherapy herbs, fruits and flowers. Deep purple salts embedded on top to set the mood.
Deluxe bath bombs are made with Shea butter, almond oil, coconut oil and sea salt that rid unwanted toxins and leave the skin silky smooth. 
The icing on the cake for this bomb is that it is dipped in goats milk soap and sea salt so when it spins in the tub it creates a rich lather on the surface! 
5.5 to 6 oz.-
 Tennis Ball Size