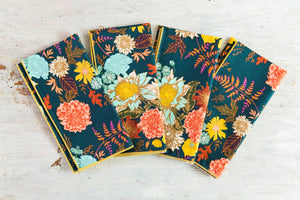 A vibrant floral to dress up any table! These are great for dinner parties, everyday use or anything in between.
We love these cloth napkins!  A timeless addition to any festive occasion, these cloth napkins bring classic sophistication in an artful blend of dark blue, aqua, blush, yellow, and greyish blues.
Set of four, unbelievably soft, 18" 100% cotton, and easy care! Wash in cool, dry warm, fold out of the dryer.